The 2012 Aventador recently received a performance boost from the German tuning company Capristo. The engineering team took the car apart piece by piece, removed extra weight and boosted the performance, and came up with the 2012 Capristo Lamborghini Aventador LP 700-4.
Some of the parts were replaced with lighter material, making the car more powerful and improved aerodynamics than the production model.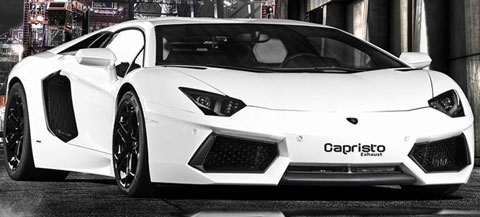 Specifications
General Info

| | |
| --- | --- |
| Vehicle Type: Super Sport Coupe | Est. Market Price: NA |
| Fuel Tank Capacity: 23.8 gals (90 L) | MPG: 11 city / 17 hwy |
Dimensions*

| | |
| --- | --- |
| Length: 188.2 in. (478 cm) | Wheelbase: 106.3 in. (270 cm) |
| Height: 44.7 in. (113.5 cm) | Width: 79.9 in. (202.9 cm) |
| Weight: 3384 lbs (1535 kgs) | Maximum Seating: 2 |
Performance

| | |
| --- | --- |
| Engine: V12 DOHC | Displacement: 6.5 Liter |
| Horsepower: 700 HP | Max RPM: 8250 rpm |
| Torque: 509 lb-ft @ 5500 rpm | Transmission: 7-Speed Auto-Manual |
| 0-60 mph: 2.8 seconds | Top Speed: 220 mph (354 km/h) |
* Base 2012 Lamborghini Aventador LP 700-4
Engine
Capristo's Lamborghini Aventador runs on a 6.5 liter V12 engine with a total output of 700 horsepower. The transmission is a 7-speed ISR semi-automatic gearbox.
You are able to get a maximum speed of 219 mph, an acceleration from 0 to 60 mph at 2.8 seconds, 1/10 of a second faster than the stock version. This performance boost has been achieved just by upgrading the exhaust system of the Aventador.
Performance
This Aventador managed to outrun most supercars on the racing track due to its downforce, aerodynamics and road grip. Its all-wheel drive ensures that the car stays on the road even while going through tight turns at high speeds.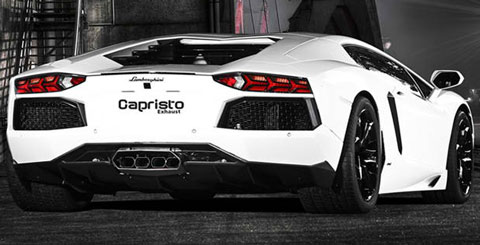 Exterior
Amongst the new visual upgrades, Capristo included a new rear wing and carbon fiber mirror casings. The original diffuser, rear and side air vents have also been taken down and replaced.
Last but not least, Capristo uses side skirts, and included a front lip and grille. The add-ons are meant to improve downforce, aerodynamics, visuals and reduced weight.
Interior
The upgrade kit does not include any interior upgrades. Capristo's presentation model was featured with the standard production interior.
The 2012 Capristo Lamborghini Aventador LP 700-4 features subtle changes that do not place it too far ahead the standard version of the car. Capristo spent their time taking the car apart reducing its weight which helps its performance as no engine or transmission upgrades were made.
The most notable changes of this version of the Aventador are related to the exhaust system and the exterior visual upgrades.