DMC announced their new body kit for the McLaren MP12C via a press release issued to main media channels.
The company worked mainly on the exterior of the car adding carbon fiber elements and a new paintjob.
Amongst the changes for the 2013 DMC McLaren MP4-12C Velocita SE the most notable features are the improved downforce and upgraded interior.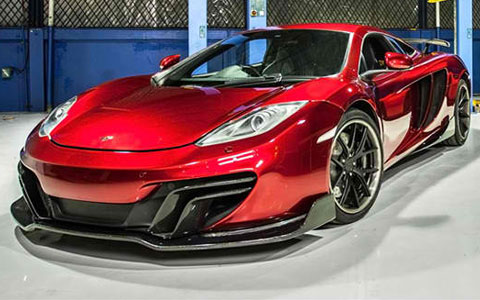 Specifications
General Info

| | |
| --- | --- |
| Vehicle Type: Super Sport Coupe | Est. Market Price: NA |
| Fuel Tank Capacity: 19 gals (72 L) | MPG: 24 combined city / hwy |
Dimensions*

| | |
| --- | --- |
| Length: 177.5 in. (450.9 cm) | Wheelbase: 105.1 in. (267 cm) |
| Height: 47.2 in. (119.9 cm) | Width: 82.4 in. (209.3 cm) |
| DIN Weight: 3249 lbs (1472 kg) | Maximum Seating: 2 people |
Performance*

| | |
| --- | --- |
| Engine: V8 M838T-Twin Turbo | Displacement: 3799 cc |
| Horsepower: 616 HP | Max RPM: 7500 rpm |
| Torque: 443 lb-ft @ 3000-7000 rpm | Transmission: 7-Speed McLaren Dual Clutch |
| 0-60 mph: 3.3 seconds | Top Speed: 204 mph (329 km/h) |
* 2013 McLaren MP4-12C base specs
Performance
No changes were done to the braking and suspension system. The car's improved road stability and grip comes from the redesigned aerodynamics.
The side flappers and front grille increase the downforce on the front axle while the wider wheels provide better grip at high speeds.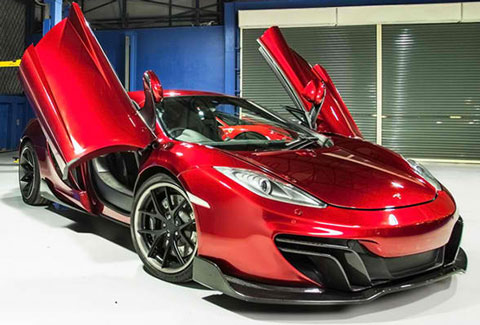 Exterior
The German company rebuilt the front fascia, adding a carbon fiber grill and a new front side lip splitter. New side flaps have been added for improved downforce and reduced weight. The stock wheels have been replaced by diamond forged alloy rims.
From the rear, the changes are more discreet. A new rear diffuser replaces the one currently on it, improving the tunnel effect by adding 2 fins.
Last but not least, the exhaust system has been replaced and redesigned, made of pure Titanium. The noise level generated has increased significantly due to the metal used to manufacture the exhaust pipe.
Interior
DMC offers custom interior with multiple choices available. The optional materials include carbon fiber elements, wood, leather or Alcantara. Additional modifications can be added as requested.
Even if DMC did not include performance upgrades in the package, the MP4-12 behaves a bit different on the road when compared with the stock version of the car.
At the same time, its exterior and interior visual improvements manage to reduce its weight. However, the 2013 DMC McLaren MP4-12C Velocita SE can be heard from a distance, it is loud.