When the 2015 Chevrolet Tahoe hits the showroom floors in early 2014, die-hard SUV shoppers may find themselves taking a second look and considering the purchase of this gem of an SUV.
Similar in concept to the Suburban, the Tahoe is a slightly smaller, sportier version that brings a host of new automotive technology to its 2015 model.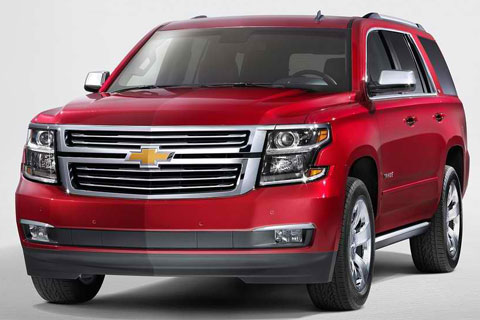 Specifications
General Info

| | |
| --- | --- |
| Vehicle Type: SUV | Base Price: NA |
| Fuel Tank Capacity: 26 gals (98 L) | MPG: 16 city / 23 hwy |
Dimensions*

| | |
| --- | --- |
| Length: 202 in. (513.1 cm) | Wheel Base: 116 in. (294.6 cm) |
| Height: 76.9 in. (195.3 cm) | Width: 79 in. (200.7 cm) |
| Curb Weight: NA | Ground Clearance: 10.5 in. (26.7 cm) |
| Luggage Capacity: 60.3 lbs** | Maximum Seating: 9 people |
Performance

| | |
| --- | --- |
| Engine: EcoTec V8 | Displacement: 5.3 Liter |
| Horsepower: 355 HP | Max RPM: NA |
| Torque: 383 lb-ft | Transmission: 6-Speed Hydra-Matic |
* 2014 Tahoe LS 2WD
** Behind 2nd row
Engine & Performance
In designing the new Tahoe, engineers resolved to find a way to give SUV owners the power and drive of a V8 engine, along with improved fuel economy using fewer cylinders. The Tahoe uses the 5.3 liter EcoTec engine that produces 355 horsepower along with 383 lb ft of torque.
This is referred to as cylinder deactivation, and occurs when the engine's sensors detect that it can function efficiently on fewer cylinders and thus shuts the other cylinders off. The result is an 8-cylinder that has the fuel economy of a 6-cylinder.
When the engine's sensors detect that more power is needed, such as when pulling a heavy load or going uphill, the inactive cylinders are activated for maximum power and less strain on the engine.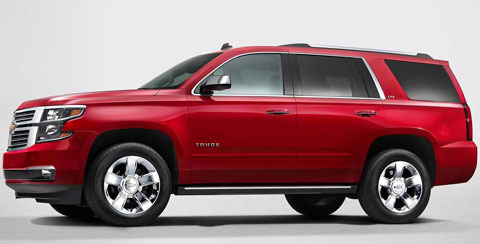 Exterior
The eye catching details of the redesigned 2015 Tahoe will no doubt draw you closer. The highlights include headlamps that are uniquely shaped to go with an aerodynamic spoiler to go with chrome grilles.
The spoiler smartly hides the rear wipers. Every aspect of this full size SUV gives you the style and functionality necessary to drive in comfort and confidence.
Interior
Passengers will be treated to a quieter ride with less wind noise, thanks to changes in the design of the doors and side windows. The exterior design of the Tahoe results in a rear section that is more square than before, which allows for more interior room for passenger comfort.
The dashboard is impressive, with a design reminiscent of a car rather than an SUV. The 8-inch touchscreen on the dash folds upward to reveal a handy storage space behind the screen.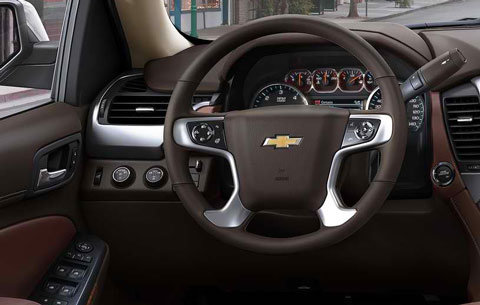 Cargo Room
Thanks to an improved interior design, the second row of seats can easily be folded down at the touch of a button, to provide greater floor space for hauling larger items that would not have fit in the conventional sized cargo area.
When the second row of seats are needed again, simply pressing the button will bring them back to their original position.
Safety
The technological advances are not limited to entertainment. There are also some impressive tech features that protect both driver and passengers. These features include: a Built-in alert system for forward collisions; detection and alert for blind sides; warning systems to alert driver if they unintentionally leave their lane; and front seat airbags located in the center.
The 2015 Chevrolet Tahoe combines elegance with utility, technology with convenience, and style with fuel economy.
Chevrolet's design of the new Tahoe reflects the hope and anticipation of Chevrolet executives that market demand for the SUV will not diminish, but will actually increase.