During the 2013 Tokyo Motor-show, Subaru unveiled the 2013 Subaru Levorg concept. This is an amazing sporty wagon that is set to get into the market, especially Japan next year.
According to the Japanese automaker, this is not only a sporty car but also a practical wagon created for a driver's comfort with the added space for the long drives.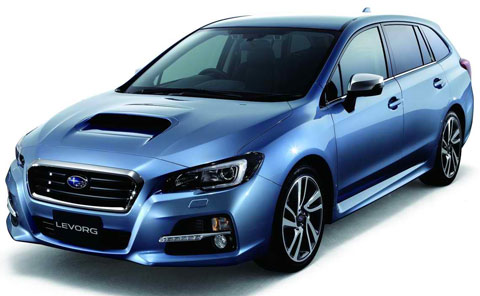 Engine
The all-wheel-drive comes with 2 engine choices; a 1.6 liter Boxer turbocharged 4-cylinder or a much larger 2.0 liter Boxer four cylinder turbocharged engine.
The smaller engine produces 168 horsepower with 184 lb-ft of torque; while the 2.0 liter engine produces 296 horsepower and 295 lbs ft of torque. For both engines, a CVT transmission are available while the smaller engine gets the standard linear-tronic CVT.
Exterior
The body is available in 2 different colors; Pearl crystal white and metallic blue-grey steel. With enough cargo space, the far end of the car's roof is kept quite low to create a sleek silhouette from front to rear.
This car has a dynamic front design that has a 3-dimensional feel that has been made possible through employing nose cone. The Levorg features a standard Subaru hexagon grille. The shape of the brand new hawk eye headlights emphasizes this car's low, wide stance.



Interior
Inside, the desginers have outfitted it with a 3.5 inch instrument dials, piano black plus metallic trim and flat-bottom steering wheel. There are satin plated rings that also have ice blue lighting that emphasize a very sharp high-tech look.
Another great feature of this car is the sportiness portrayed in D-shaped steering wheel. This helps make for a very fun driving experience.
Safety
The new Subaru Levorg has been installed with an Emergency Stop Signal that quickly flashes hazard-warning lights when it makes sudden deceleration from a very high speed. This warns the car behind it of a rapid approach and any collision risk.
The car is also equipped with 7 airbags together with knee airbag in driver's seat.