The 2015 Ford F-150 is America's all-time favorite truck, and Ford has made it the smartest, toughest and the most capable F-150 ever. The 2015 edition delivers a combination of power, efficiency, and capability.
The significant improvement comes in the use of new material. The new F-150 is made of military-grade high strength aluminum alloy and steel. It is 700 pounds lighter than the previous model, enabling the vehicle to not only save fuel, but accelerate faster, brake quicker, and tow more weight.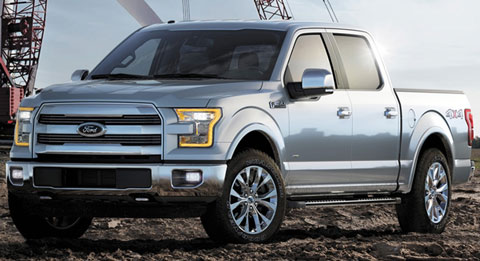 Engine
Ford has not divulged little on the engine. The engine options are expected to include a 2.7 liter EcoBoost engine, a 3.5 liter V6 mill, a 3.5 liter EcoBoost powertrain and the mighty 5.0 liter T-VCT V8.
The new F-150 will be available in both rear-wheel drive and all-wheel drive options.
Exterior
The new F-150 has got some design cues from the Atlas concept. The front looks rugged and gives the truck a mean look with that tall three-slat grille. The sharp headlights and chiseled hood goes with the aggressive styling.
The truck tailgate has a flat top for better aerodynamic and a multi-facet tail lamp.
The usage of aluminum has made this truck tougher and protects body panels from dings & dents. The stronger and lighter body has not only increased the safety levels, but also the overall efficiency of the vehicle.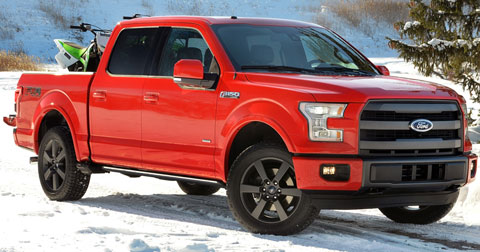 Interior
The interior reflects the chunky chiseled design of the exterior. The rectangular surfaces on the dash, steering wheel, and door panels make complement the exterior.
The touch screen at the center of the dashboard comes with Ford's MyFord infotainment system (optional). It also comes with LED box lighting and LED spotlight mirror.
You may opt for an LCD screen integrated in the instrument cluster.
The new 2015 F-150 will be available in XL, XLT, Platinum, Lariat and King Ranch trims. You have options on choosing monochromatic or chrome appearance packages and an FX4 off road package.