The 2013 Volkswagen Twin Up Concept is an ultra fuel efficient car showcased by VW at the Tokyo Motor Show. The indications suggest that vehicle may make its real world debut.
The Twin Up Concept borrows its powertrain from the VW XL1. Twin Up is the hybrid version of Volkswagen Up. This four seater hybrid returns a staggering fuel efficiency of 178 MPGe, which makes it one of the most fuel efficient car to be ever built.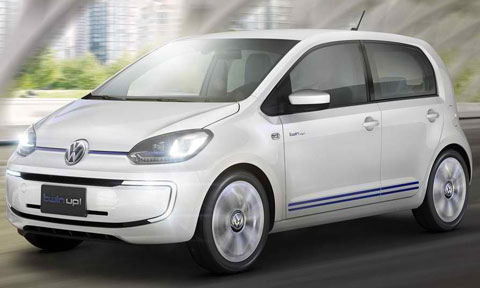 Specifications
General Info

| | |
| --- | --- |
| Vehicle Type: Hybrid Diesel | Base Price: NA |
| EV Mode Range: 31 miles | MPGe for EV Mode: 178 miles avg |
| Fuel Tank Capacity: 8.7 gals (33 L) | 0-60 MPH: 8.8 seconds |
Performance

| | |
| --- | --- |
| Engine: 2 Cylinder TDI | Displacement: 0.8 Liter |
| Horsepower: 47 HP | Max RPM: NA RPM |
| Torque: 159 lb-ft | Transmission: 7-Speed DCT* |
* Dual Clutch Transmission
Hybrid System
The Twin Up concept comes with a drive unit that comes in the form of a 0.8 liter diesel motor, an electric motor that produces 35kW, and a 7 speed DSG. The engine is located behind the rear seats.
The combined output is 74 horsepower and a maximum torque of 159 lb-ft. The car can run up to 31 miles in all-electric mode, with zero emissions. The engine is not just about efficiency, but it can be a fun to drive as well.
The Twin Up can do a 0-60 mph dash in 8.8 seconds. In all-electric mode, the car has a top speed of 78 mph (125 km/h), which is respectable for its size. In hybrid mode, the vehicle can clock a top speed of 87 mph (140 km/h). The car has an unladen weight of 2657 lbs, which allows the vehicle to achieve amazing efficiency.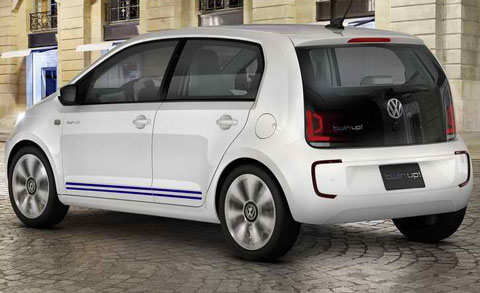 Exterior
The design of the Twin Up concept is compact. The external design is that of a neat and cute looking hatch. The huge glass rear door gives a distinctive look to the vehicle.
The Twin Up is only a concept and the final design of the production model may be a lot different. VW showcased the concept in Tokyo in sparkling white with blue glass flakes.
Interior
The interior color of the model unveiled was in ceramic, along with accents of blue. The concept version had a non-traditional dashboard with all digital controls and instrumentation.
At this stage the whole Twin Up project is a concept. However, if number crunching supports, then VW may push this out in the market for immediate public consumption, just like the XL1.