Not just a super car that carries on the name of racing driver Pierre Veyron, who, while racing for the original Bugatti car manufacturer, won the 24 hours of Le Mans in 1939. The Bugatti Veyron 16.4 was the most powerful and the faster car in the world when it first came out in 2005, it can easily pass as a super hero`s car like Batman. It has the fastest acceleration speed, reaching 60 mph in 2.5 seconds.
Endowed with a 8.0L W16-Cylinder, four turbochargers, and a dual-clutch DSG computer-controlled manual transmission, the Veyron can reach a top speed of 253 mph. Counting a sum of 10 radiators, for the engine cooling system, for transmission oil, a heat exchanger for the air to liquid intercoolers, for engine oil etc., the car has a power to weight ratio of 529 bhp/tonne.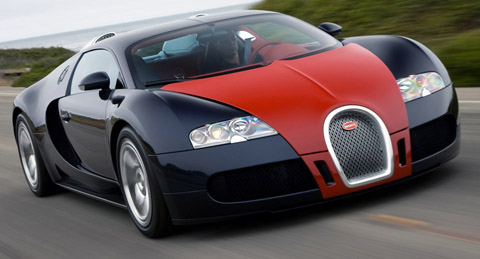 If we talk about performance we are dazzled by this supercars power to reach 200 and 300 km/h (124 and 186 mph) in 7.3 and respectively 16.7 seconds, winning for herself the name of the quickest-accelerating production car in history. If we count the fact that the top speed of Bugatti Veyron is 253.2 miles per hour (407.5 km/h), a speed limited electronically to prevent tire damage (it can run even faster) we can understand why this spectacular car must consume 40.4 L/100 km (4.82 mpg) when it`s running at top speed and in city driving 24.1 L/100 km.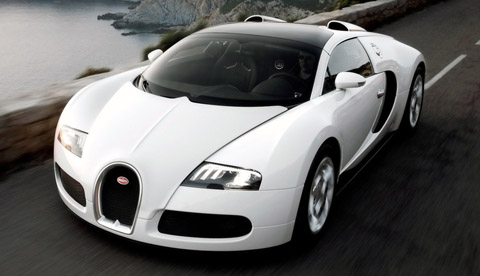 Driven by a superstar like Tom Cruise, this supercar couldn`t name itself cheap, raising the Bugatti Veyron to a price tag of $1,700,000, a price that measures up to it`s quality. Many new designs has been released since 2006, the color might have changed, but the performance and power remain the same.
Specifications
General Info

| | |
| --- | --- |
| Vehicle Type: SuperCar | Base Price: $1,700,000.00 |
| Fuel Tank Capacity: 25 gal. (94.6 l) | Miles Per Gallon: 8 city / 13 hwy |
Dimensions

| | |
| --- | --- |
| Length: 174.2 in. (442 cm) | Width: 77.9 in. (198 cm) |
| Height: 47 in. (119 cm) | Curb Weight: 4162 lbs (1888 kg) |
Performance

| | |
| --- | --- |
| Engine: 8.0L W16-Cylinder, Quad Turbocharger | Displacement: 7993 cc |
| Horsepower: 1001 HP | Max RPM: 6000 RPM |
| Torque: 923 lb-ft at 2200-5500 RPM | Transmission: 7-speed DSG sequential |
| 0-60 mph: 2.5 seconds | 1/4 Mile: 10.2 seconds @ 142.9 mph |
Bugatti Veyron models
[nggallery id=7 template=caption ]

Testing the Top Speed – 253 mph

Bugatti Veyron 16.4 Test Drive

Bugatti Veyron vs BMW M3

Bugatti Veyron vs Mclaren SLR

Bugatti Veyron vs. Audi R8

Bugatti Veyron vs. Gallardo Superleggera, R8, 911 GT3 RS, DB9

Bugatti Veyron vs. Yamaha R1 RACING DOWN MOTERWAY

Bugatti Veyron vs Porshe full test

Bugatti Veyron Review