The new Bugatti Veyron 16.4 Grand Sport features in Sardinia is a special edition roadster where only 150 units will be manufactured. It comes out with new aesthetics, modifications and it is set to give a tough competition to the other cars in the market.
This Bugatti comes out with new modifications, newly designed safety features, an open top and it is also the world's fastest roadster. The body features daytime running lights, high windscreen and a transparent polycarbonate roof.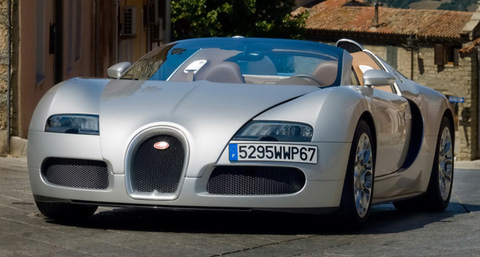 The body of the Bugatti Veyron 16.4 is made of carbon fibre and it houses a longitudinal beam that shifts the cars load from the first pillar to the second pillar at the time of accidents. In addition, there is a carbon plate that has been installed below the transmission. The car features an open top that can be opened or closed within a few seconds and when it is in closed position, it provides a large luggage space.
The Bugatti Veyron 16.4 is powered by a 8.0 L W16 engine with carbon fiber elements and two air intakes that allows cool air for the cooling of the engine and the front wheels. The final output power released by the engine is 987 bhp and 927 lb-ft torque. The maximum speed of the car is 407 km/h.

The suspension system consists of shock absorbers and it allows the cars height to be increased or lowered depending upon the road conditions. The alloy wheels are enclosed with specially designed tires and the wheels are equipped with disc brakes on all four wheels.
Specifications
Vehicle Type: – 2-door convertible
Configuration: – Mid Engine
Engine: – 8.0 L W16
Horsepower: – 987 bhp
Torque: – 927 lb-ft
Top speed: – 406 km/h