The latest Bugatti model that won the worldwide acclaim in the year 2009 is the Bugatti 16.4 Veyron Sang Bleu. The founder of the Bugatti Company is Ettore Bugatti who started manufacturing cars in Alsacian town of Molsheim in 1909. Today's year is its 100th anniversary and they are selected as one of the featured marques at Pebble Beach Concours D'Elegance.
Bugatti 16.4 Veyron Sang Bleu is a 2-door convertible production car. Its configuration is mid engine/AWD. The engine is quad-turbo W16 and a displacement of 7993 cc. It can generate a horsepower of 1001 bhp at 6000 rpm. It also has a torque of 922 lb-ft at 2200 rpm. Its maximum revolution per minute is 6600 rpm and a 7-speed semi-automatic transmission. Sang Bleu is a unique, one-off grand sport that honours the marques precious heritage.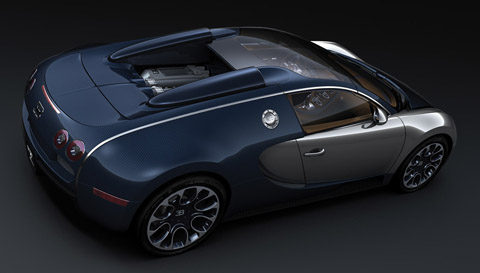 Sang Bleu is unique since it exhibits new innovation on paint combination and its materials. This unexpected venture on new designs is a proof that the company is a symbol for new art in terms of cars. Its colour combination is of the blue carbon fibre and polished aluminum. The cars' volume and surfaces is given emphasis with the help of the royal blue tint. Dramatic view from above is a result of painting the rear airscoops with night blue tint. The rims are enthused by the Grand Sport Roadster and it is painted with a midnight blue and a diamond cut two tone finish. Its interior is trimmed with freshly invented Gaucho leather which complements its exterior appearance which results to a stylish and pleasant over all look.