Is "The Bug" about to get another big brother?
That is a possibility with the introduction of the 2014 Volkswagen New Midsize Coupe Concept, unveiled at the 2014 Beijing Auto Show in April.
It's not quite as tall as the Jetta, though wider than the CC. This provides for a sleeker, sportier appearance.
If the midsize coupe makes it to the production line, it is expected to compete with the Audi A3 and Mercedes-Benz CLA- Class among others.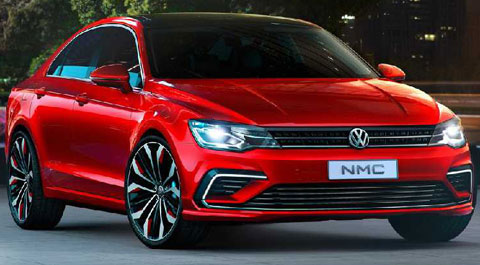 Engine & Performance
Under the hood, the New Midsize Coupe Concept is expected to be equipped with a 2.0 Liter, Inline 4 Turbo, capable of generating 217 horsepower.
It is front wheel drive paired with a 7 speed dual clutch automatic transmission.
You can expect 34 mpg on the highway while accelerating from 0-60 mph in 6.5 seconds topping out at a speed of 152 mph. Not bad for a coupe.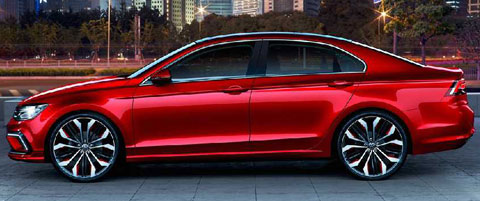 Exterior
A full profile set of LED headlamps accentuate the front of the 4 door 2014 Volkswagen New Midsize Coupe Concept Car.
The chrome grille is sharp and the front fenders meet the hood seamlessly.
From the side, the first thing you may notice are the aluminum, black and red 20 inch wheels.
A predominant body line runs along the cars bottom from the front fender to the rear door handles and continues above the rear fenders.
The taillights have a strong 3 dimensional affect and the backend features the VW emblem squarely in the center.
Interior
Inside the 2014 Volkswagen New Midsize Coupe Concept you will see a much more stylish approach than that of the average VW.
It has Piano Black trim around dual analog gauges and a large infotainment screen stands out above the center stack.
The shift knob is black and chrome and the leather seats are white. Matching white door panels are complemented with wood grain.
It should sell for in the range of $28,000. At that price point, with its coupe styled roof line, diminutive length and broad track, it just might create quite a stir in the U.S.