The 2014 Volkswagen e-Up made its first appearance at Volkswagen's 2013 Annual Press and Investors Conference in Wolfsburg, Germany.
The VW e-Up will allow the company to gauge it electronic production car acceptance when it goes on sale later this year.
Despite its small size, the car has a spacious interior accented with leather details.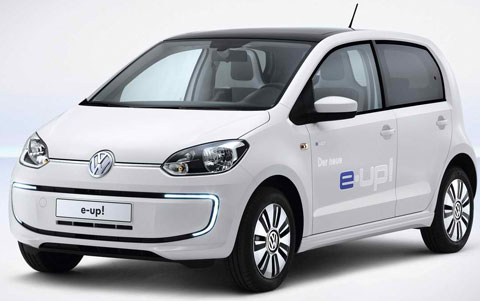 Specifications
General Info

| | |
| --- | --- |
| Vehicle Type: Electric Compact | Est. Market Price: NA |
Dimensions*

| | |
| --- | --- |
| Length: 139.4 in. (354.0 cm) | Wheelbase: 95.3 in. (242.0 cm) |
| Height: 58.6 in. (148.9 cm) | Width: 64.6 in. (164.1 cm) |
| Curb Weight: 2612 lbs (1185 kg) | Ground Clearance: NA |
| Luggage Capacity: 8.8 cu ft | Maximum Seating: 4 |
Performance

| | |
| --- | --- |
| Battery: Li-Ion | Horsepower: 81 HP |
| Torque: 155 lb-ft | Transmission: Automatic |
| Battery Capacity: 18.7 kWh | Range: 93 miles (150 km) |
*Stock Specs
Engine
The Volkswagen e-Up boasts a "nearly zero noise" sub-compact that has the capability of delivering a fairly reasonable performance for a sub-light vehicle. The e-Up has a top speed of 84 mph and a 0-62 mph sprint time in 14 seconds.
The electric motor produces a maximum of 80 horsepower and 155 lbs ft of torque.
The e-Up also makes use of the CCS (Combined Charging System) that supports both DC and AC charging. This means that a driver can charge their e-Up at most charging stations.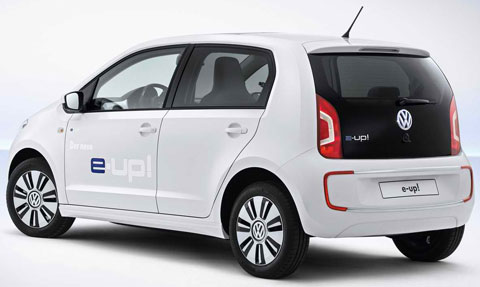 Exterior
The Volkswagen e-Up has a delicate yet subtle style that expresses a high level of quality. One of its notable features is the seamless curved layout of the LED daytime running lights located at the front bumper.
To add quality to the flawless design, the front end, under-body and sills have all been aerodynamically optimized in order to increase cruising range. The e-Up also sports a 15-inch alloy wheels and all of the VW badges have been given blue backgrounds.
Interior
With its 4 seats and electrical drive, the 2014 Volkswagen e-Up has ventured into an entirely new vehicle concept. Its laid back look coupled with its small size makes it an innovative car that is ideal for daily use within the city.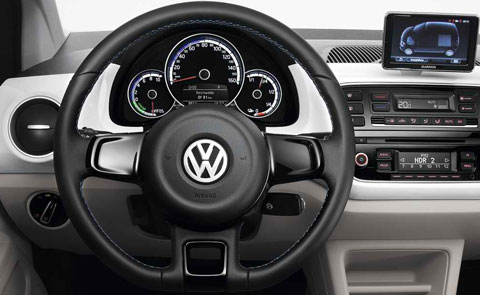 The e-Up has a range of 93 miles just like any other electric car of its generation. In just 30 short minutes of charging, its 18.7Kwh lithium-ion battery will have been recharged to 80 percent capacity.
The price of the 2014 Volkswagen e-Up is yet to be confirmed by the VW group.