This is no Beetle! The 2013 Volkswagen CrossBlue Coupe Concept shows that the German car manufacturer is serious resolve to be a player in the "green" SUV market.
The coupe version is the second such CrossBlue concept after a different model was introduced at the Detroit Auto Show earlier this year. The introduction of the coupe makes this car a viable production option for VW in the future.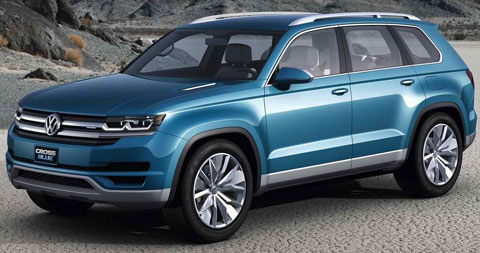 Engine & Performance
The Volkswagen CrossBlue Coupe Concept combines a 6 cylinder, direct injection, turbo-charged gas engine with 2 electric motors. The combination produces a hefty 409 horsepower. This allows the vehicle to move from 0 to 62 MPH in under 6 seconds (5.9). The car tops out at the speed of 146 MPH. The engine will be coupled with a 6 speed DSG transmission.
Between hybrid mode and its gas tank, the 2013 Volkswagen CrossBlue Coupe should be good for around 740 miles between recharges and fill-ups.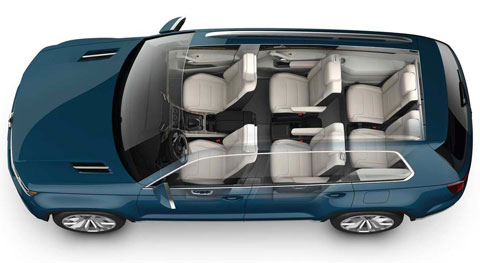 Exterior
The front grille of the Volkswagen CrossBlue Coupe Concept quickly exhibits this vehicles uniqueness. The thin single framed grille piece extends across the entire front façade, incorporating the headlight housings as well. The air intakes on either side of a mesh like screen, gives it an imposing profile as it approaches.
From the side, the oversized 22 inch wheels dominate the view. Nice, clean lines finish it off.
The most distinctive feature of the rear are the L-shaped taillights that distinguish it from other SUVs. At the bottom of the rear bumper, the trapezoidal twin tailpipes are neatly enclosed and trimmed in silver.
The coupe is 195.5 inches long with a wheelbase just over 117″ and stands 63″ tall.
Interior
The inside of the CrossBlue Coupe Concept is simple but sporty. The semi-sports seats are wrapped in leather and comes with a two tone color scheme. The steering wheel has a flat bottom design with a few functional controls mounted on it.
A technology savvy 8 inch display screen includes 3D navigational capabilities. The center console is exquisitely located with all the controls at your fingertips.