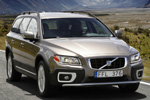 The Volvo XC70 is one of the off-road, all-wheel drive (AWD) siblings in the V70 series of five-door estates or station wagons from Volvo Cars of Sweden. In the first-generation V70, the AWD in the series was simply called as the XC (Cross Country).
This off-road variant was renamed Volvo XC70 in the V70 series' second generation, all models of which were built using the P2 platform. It featured raised suspension, an interior grab handle and plastic body cladding.
Volvo changed the P2 platform in the V70's third generation to the Y20 platform, and as a result, the Volvo XC70 AWD became available only with the front-wheel drive train. In this iteration, the XC70 was mounted with a 3.2L I6 engine capable of 235 hp (175 kW) at 6,200 rpm. Another recent revision that went into the XC70 is the addition of a DSTC (Dynamic Stability and Traction control) system.
[phpbay]Volvo XC70,20,6001[/phpbay]
Volvo XC70 Review