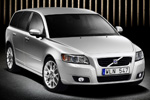 The Volvo V50 is a five-door estate or station wagon that was introduced in 2003 as part of the S40 small family-car series manufactured by Volvo Cars. The V50 SV concept car shown in Las Vegas in 2004 was based on the V50.
The Volvo V50 is built on a Ford C1 platform, a feature it shares with the Mazda 3 and the European version of Ford Focus. Among the salient features of the Volvo V50 are a floating center stack, interior "theatre" lighting, and "Volvo Intelligent Vehicle Architecture".
[phpbay]Volvo V50,20,6001[/phpbay]
Included among the V50 engine options is the turbo-charged T5 AWD (all-wheel drive) featuring a straight-5 2.5-liter gasoline engine. In the 2008 model year, power and torque of the T5 engine were increased. A turbocharged D5 engine was also made available, along with revised audio systems, enhanced front styling, optional active xenon headlights, and minor interior changes. The Volvo V50 T5 is marketed only as an automatic AWD in the US market for 2009.
Volvo V50 Review