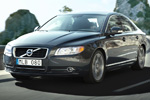 Accident-prone drivers will feel more secure with the Volvo S80. This executive sedan from the Swedish auto manufacturer Volvo Cars has one of the best ratings in crash tests. The first-generation S80s (1998–2005) held this distinction for five years, while the second generation scored the highest in a 2007 crash safety test for head-on, rear and side collisions.
This stellar safety performance of the second-generation S80 results from the car's improved engineering brought partly by a more rigid, stiffer chassis. First generation S80s were exclusively available in sedans, but a station wagon version was added in the second iteration which was actually the estate variant of the V70 series.
This shakeup partly reflects a major product overhaul going on at Volvo to come up with large, luxurious sedans and wagons. Styling of the Volvo S80 is distinctive for its tail lights and belt lines that narrow as they go up curves and points, a characteristic later seen in the entire Volvo lineup.
Base MSRP for New Volvo S80: $37,150
Estimated Price Range for Used Volvo S80: $2,000-$40,000
Estimated MPG for Volvo S80: 15 City/23 Hwy
Available Trims: Base, 2.9, T6
Below are Pre-Owned Volvo S80 from Ebay and 7 of the top used-car sites on the web:
[phpbay keywords="Volvo S80″ num="5″ siteid="1″ sortorder="BestMatch" templatename="default" paging="false" category="6001″]
Volvo S80 Review