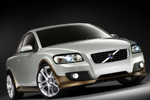 The youth market segment and first-time Volvo owners are the target market of the Volvo C30. This small car is positioned in the market as a sports coupe or premium hatchback, and was officially introduced at the 2006 Paris Motor Show.
It went on sale in the US in 2007 for the 2008 model year. A three-door, four-seat passenger car, the C30 draws its power from straight-4 and straight-5 engines. The Volvo C30 is closely related to the S40/V50/C70 series, sharing the same Ford C1 or Volvo P1 platform.
The 2001 SCC concept car, an inspiration from the estate adaptation of the P1800 Coupe (the 1800ES now iconic of Volvo), is the basis for the C30's exterior design. The Volvo C30 interiors mirror those in the S40 and the V50. Most of the parts including 'floating' centre stack, the instrument panel and steering wheel are designed the same in all three cars.
Base MSRP for New Volvo C30: $24,700
Estimated Price Range for Used Volvo C30: $14,000-$25,000
Estimated MPG for Volvo C30: 21 City/29 Hwy
Available Trims: Base, 1.0, 2.0, T5
Below are Pre-Owned Volvo C30 from Ebay and 6 of the top used-car sites on the web:
[phpbay keywords="Volvo C30″ num="5″ siteid="1″ sortorder="BestMatch" templatename="default" paging="false" category="6001″]
Volvo C30 Review