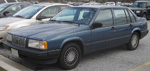 The Volvo 940 is among the variants of the 900 series of mid-size cars that the Swedish firm Volvo manufactured during the 1990s. The 940 was launched in 1991 to replace the Volvo 760 and was one of the last in the log-running editions of large rear-wheel drive Volvo automobiles.
The 940 was more of a closer relative to the 740 than the 760, the Volvo 940's immediate predecessor. Essentially, the 940 was a cosmetic repackaging of the Volvo 740 introduced in 1985. All drive trains in the Volvo 940 and most of its options were shared from the 1985 edition 740.
Estimated Price Range for Used Volvo 940: $1,200-$10,000
Estimated MPG for Volvo 940: 17 City/22 Hwy
Available Trims: Base, GLE, Turbo
Below are Pre-Owned Volvo 940 from Ebay and 5 of the top used-car sites on the web:
[phpbay keywords="Volvo 940″ num="5″ siteid="1″ sortorder="BestMatch" templatename="default" paging="false" category="6001″]
In addition to the drivetrain choices, the 940 shared the 740's sheet metal from the A-pillar forward and dashboard. Three versions of the 940 were offered in the US market. One was the 940 GLE which sported a DOHC 16-valve version of the 2.3-litre engine featuring a redline of 6000 rpm. Then, there's the 940 Turbo equipped with a turbocharged 2.3-litre engine. The third was the 940SE (turbo), the top-end model with premium features such as moonroof, leather and power seats as standard equipment, and body-colored trim.
Volvo 940 Crash Test