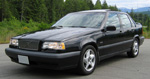 The Volvo 850 is the first front-wheel drive car to be exported to North America by its Swedish manufacturer. It is a small executive car that was manufactured by Volvo Cars during 1992-1997.
It was made available in the American market starting 1993 in sedan or estate body designs. The 850 is a pivotal model for Volvo in the North American market, as it provided its Swedish manufacturer the reputation of a high-end automaker.
Estimated Price Range for Used Volvo 850: $1,000-$2,500
Estimated MPG for Volvo 850: 22 City/33 Hwy
Available Trims: Base, GLT, Turbo
Below are Pre-Owned Volvo 850 from Ebay and 4 of the top used-car sites on the web:
[phpbay keywords="Volvo 850″ num="5″ siteid="1″ sortorder="BestMatch" templatename="default" paging="false" category="6001″]
The development of the 850 was considered among of the largest Swedish engineering projects. Emerging as Volvo's best-seller in the mid-1990s, the 850 featured an all-aluminum 20-valve five-cylinder engine. Standard Volvo 850 equipment include antilock brakes, dual front airbags, head restraints and three-point seat belts for all passengers, power windows/door locks/ mirrors, cruise and dual zone climate controls. Side torso airbags were offered as an option for the 1995 model, a world's first.
Volvo 850 Video Clips