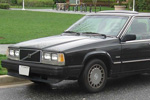 The Volvo 740 is a mid-sized car introduced into the US auto market in 1985, offering a more stylish design, upgraded luxury features and higher performance than the Volvo 200 series.
Available in the American auto showrooms up to 1992, the Volvo 740 was offered as a four-door sedan and a five-door station wagon. Most of these cars are still in use today, attesting to their sturdy construction and robust engines reputed to survive mileage running up to hundreds of thousands of miles.
Estimated Price Range for Used Volvo 740: $1,400-$8,000
Estimated MPG for Volvo 740: 18 City/24 Hwy
Available Trims: Base, GL, GLE, Turbo
Below are Pre-Owned Volvo 740 from Ebay and 4 of the top used-car sites on the web:
[phpbay keywords="Volvo 740″ num="5″ siteid="1″ sortorder="BestMatch" templatename="default" paging="false" category="6001″]
The car underwent a minor facelift in 1990 with new composite headlights and Volvo 780 rear lights added. Larger 13 mm (0.5 in) connecting rods were also incorporated to the B230 motor that year. In addition, the fuel system was upgraded featuring onboard diagnostics accessible from the hood with no need for special tools. In the following year, the dashboard was updated, and the Volvo 740 remained mostly the same until its phase out in 1993.
Volvo 740 Video Clips