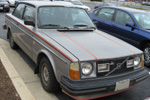 The Volvo 240 belongs to the Volvo 200 series consisting of a range of luxury mid-size cars manufactured between 1974 and 1993. During this period, a total of more than 2.8 million units from the series were sold, with the Volvo 240 as one of the most popular.
It was so favored by consumers that the Volvo 240 remained in production despite the introduction of the Volvo 700 series in the market replacing the 200 series. Volvo 240 initially has six variants, namely: 242L, 242DL, 244DL, 244GL, 245L and 245DL.
Estimated Price Range for Used Volvo 240: $600-$3,000
Estimated MPG for Volvo 240: 18 City/23 Hwy
Available Trims: Base, SE, DL
Below are Pre-Owned Volvo 240 from Ebay and 4 of the top used-car sites on the web:
[phpbay keywords="Volvo 240″ num="5″ siteid="1″ sortorder="BestMatch" templatename="default" paging="false" category="6001″]
The letters in these 240 variants represent specific trim level or luxury designations, with "L" starting off as the least expensive. The cars are powered by a B20A four-cylinder engine similar to the earlier Volvo 140 Series. A new B21A 2127cc, four -cylinder engine was made available as an option on the Volvo 240 DL models. This new engine has a cast iron block, a belt-driven camshaft and a five-bearing crankshaft.
The Power of the Volvo 240