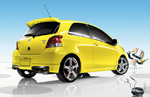 Starting the year right, Toyota introduced three new models of the Toyota Yaris. The 2009 Toyota Yaris is available in three styles: the three-door lift back, the four-door sedan, and finally, the five-door lift back.
Aside from the usual functions you'd find in any car, the Toyota Yaris has A/C, tilt steering wheels, adjustable seats, and CD/ MP3 player enabled. Driving wise, the engine comes with a 1.5 liter 4-cylinder engine that produces 106 horsepower and 103 lb/ft of torque.
The car's exterior is suitable for young, petite people due to its extremely compact size. However, once you get inside the car, you would realize that the interior actually is spacious than it looks from outside. For instance, there is ample room for the front passenger and the four-door model can actually fit two adults and even your kid in the backseat. The Toyota Yaris is both available in manual and automatic transmission.
Base MSRP for New Toyota Yaris: $13,155
Estimated MPG for New Toyota Yaris: 29 City/36 Hwy
Available Trims: 3 door liftback, 5 door liftback, sedan
Below are Pre-Owned Toyota Yaris from Ebay and 7 of the top used-car sites on the web:
[phpbay keywords="Toyota Yaris" num="5″ siteid="1″ sortorder="BestMatch" templatename="default" paging="false" category="6001″]
2009 Toyota Yaris Review

Toyota Yaris TV Commercial