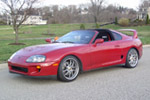 Toyota Motors has presented one of the best cars in the history of car models since the 1980s in the form of the Toyota Supra. It was manufactured and produced from the year 1979 up to 2002. The 1st and 2nd Generation models of this best selling model were derived from the Celica model but it was longer and wider in size and in shape. Its third generation finally became independent of the Celica, completely separating the two. Because of the similarity of the two, most car enthusiasts frequently mistake the Celica model with the Supra model and vice-versa.
Price range for Toyota Supra: depending on model year and overall condition, anywhere from $3000 to $49,000
Estimated MPG for Toyota Supra: about 15 City/22 Hwy
Available Trims: Premier, Turbo, SE
Below are Pre-Owned Toyota Supra from Ebay and 7 of the top used-car sites on the web:
[phpbay keywords="Toyota Supra" num="5″ siteid="1″ sortorder="BestMatch" templatename="default" paging="false" category="6001″]
Currently, the Toyota Supra has four generation models. All of these models have the "inline" six cylinder engines, tracing its roots back to the Toyota 2000GT engine. Together with the Toyota Logo, the Toyota Supra has its very own logo until the year 1991 when Toyota introduced its current oval shaped company logo. This model has ceased any form of sale in the United States as of the year 1999 and the Toyota Company officially stopped its production in 2002.
The Toyota Supra has undergone huge changes since its inauguration in the late part of 1979. The latest generation or the fourth generation model featured a well rounded body style and two engines. The first was the natural 2JZ-GE engine that can produce a whopping 220 horse power. The second was the twin turbo-charged 2JZ-GTE that can make a tremendous amount of 280 horsepower that largely surpasses the first engine. It is one of the best selling car models that Toyota has made so far.
Toyota Supra Blows Engine

800HP Red Toyota Supra TT Twin Turbo

Toyota Supra Commercial