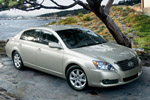 The Toyota Avalon is a full size sedan that is stable and powerful, suitable for highway driving. The 3-5 liter V6 that runs on 268 horsepower and 248 lb-ft torque, along with the six-speed automatic transmission makes every ride enjoyable for drivers to cruise along big roads and highways. The interior is also spacious, allowing three adults to seat comfortably in the back with enough leg room as well.
There are three models of the Toyota Avalon: the XL, XLS and Limited. The top model is the "Limited" model, complete with leather lining. The XLS, has chic features with a moonroof and CD changer. The XL has the basic standard features.
The second generation of these sedans weren't as snug and smooth, however; the latest versions of the Toyota Avalon were upgraded, including outstanding fuel efficiency without having to sacrifice how the engine performs on the road.
Base MSRP for New Toyota Avalon: $33,195
Estimated MPG for New Toyota Avalon: 20 City/29 Hwy
Available Trims: Base, Limited, XL, XLS
[phpbay keywords="Toyota Avalon" num="10″ siteid="1″ sortorder="BestMatch" templatename="default" paging="false" category="6001″]
Toyota Avalon Test Drive

1996 Toyota Avalon Commercial