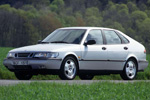 Enjoying comfort, style, safety and speed is what the Saab 900 compact executive vehicle is all about. Assembled in Trollhättan, Sweden from 1978 to 1993 and one more time in 1994, this entry level luxury vehicle comes in a convertible and notchback in 2-door, liftback or hatchback in 3-door and 5-door and a sedan in 4-door.
Owners of the Swedish vehicle have so much to smile about when asked regarding the engine power. There is the 2.0L and 2.1L to brag about and to top it off, the Saab 900 offers different types of transmissions such as the four-speed and five-speed in manual and an automatic for the three-speed.
What makes this vehicle different from the others? The installation of its engine in a backward manner wherein the power comes from its crank then distributes it below the transmission, while in most cars it is done the other way around.
Estimated Price Range for Used Saab 900: $1,000-$4,500
Estimated MPG for Saab 900: 20 City/26 Hwy
Available Trims: Base, SE, S, Turbo
Below are Pre-Owned Saab 900 from Ebay and 4 of the top used-car sites on the web:
[phpbay keywords="Saab 900″ num="5″ siteid="1″ sortorder="BestMatch" templatename="default" paging="false" category="6001″]
Saab 900 Review