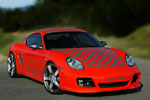 The Porsche Cayman, a rear-wheel drive, mid-engined two-seat sports car, was launched in the 2006 model year after two years of development. Its coupe body design was derived from the second generation Porsche Boxster convertible.
Aside from the mid-engine platform, the Cayman also shares the Boxter's fenders and trunk lid, taillights, headlights, side doors, front and forward portion of the interior. Two classic Porsches, the 904 coupe and the 550 coupe also served as the basis for the Cayman's body design.
There are three flat-6 engine options for the Porsche Cayman, 2.7L, 2.9L and the 3.4L displacements. The 3.4L configuration is available for the Cayman S variant that was used in the Boxter S but with cylinder heads derived from the 3.8L motor of the Porsche 997. The 2.7L M97.20 engine, less powerful but more fuel efficient, powers the base model. The transmission on the base Cayman is a five-speed manual transaxle. A six-speed manual goes as the default transmission for the Cayman S.
Base MSRP for New Porsche Cayman: $51,900
Estimated Price Range for Used Porsche Cayman: $15,000-$50,000
Estimated MPG for Porsche Cayman: 18 City/26 Hwy
Available Trims: Base, S, R
Below are Pre-Owned Porsche Cayman from Ebay and 7 of the top used-car sites on the web:
[phpbay keywords="Porsche Cayman" num="5″ siteid="1″ sortorder="BestMatch" templatename="default" paging="false" category="6001″]
Porsche Cayman VS BMW 135i