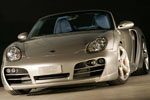 Porsche AG first manufactured its Boxster, a mid-engined roadster, in 1996 and was introduced as a 1997 model. The first-generation Porsche Boxster came powered with a 2.5L flat six-cylinder engine.
The Boxster S variant was launched in 2000 featuring a larger 3.2L motor and the base model's engine was upgraded to a more powerful 2.7 liter motor. Styling and engine output were again upgraded on both versions in 2003.
A new generation of Porsche Boxster models rolled off the assembly line in 2005. This was the 987 which was even more powerful than the previous version and its styling based on the Carrera GT. In 2007, engine output was increased again with both Boxster models receiving the engines from their corresponding Porsche Cayman iterations.
Several mechanical and cosmetic upgrades were incorporated into the Porsche Boxster models in 2009, resulting in better looks as well as increased performance and engine output.
Base MSRP for New Porsche Boxster: $48,100
Estimated Price Range for Used Porsche Boxster: $6,800-$45,500
Estimated MPG for Porsche Boxster: 19 City/27 Hwy
Available Trims: Base, S, Spyder
Below are Pre-Owned Porsche Boxster from Ebay and 7 of the top used-car sites on the web:
[phpbay keywords="Porsche Boxster" num="5″ siteid="1″ sortorder="BestMatch" templatename="default" paging="false" category="6001″]
Porsche Boxster VS the Army Challenge