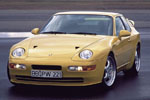 An entry-level sports car, the Porsche 968 was manufactured from 1992 to 1995. It replaced the 944 as Porsche AG's entry-level sports car. The 968 shares 20% of the Porsche 944's parts, and is powered by an upgraded version of the 944's straight-4 engine.
The Porsche 968 motor is a 3.0L engine producing 240 PS (236 hp/177 kW). At its introduction, the 968 had the second largest four-cylinder engine among production cars. The powertrain in the 968 had several major changes from that in the 944. Included in these changes were the addition of a dual-mass flywheel, updated engine management electronics, a variable valve timing system, and an optimized induction and exhaust systems.
Styling of the 968 features designs from other earlier Porsche models such as the swooping headlights of the Porsche 959. Coupe and convertible are the body style choices for the Porsche 968. A lighter Club Sport version was also offered in 1993–1995 for those who want increased track performance.
Estimated Price Range for Used Porsche 968: $8,000-$22,000
Estimated MPG for Porsche 968: 15 City/24 Hwy
Available Trims: Base, Cabriolet
Below are Pre-Owned Porsche 968 from Ebay and 4 of the top used-car sites on the web:
[phpbay keywords="Porsche 968″ num="5″ siteid="1″ sortorder="BestMatch" templatename="default" paging="false" category="6001″]
Porsche 968 Review