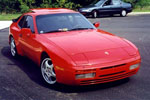 The Porsche 944 sports car was in production between 1982 and 1991 and was available in two body styles: two-door coupe and two-door convertible. Three engine choices were available during its entire production run, namely 2.5L I4, 2.7L I4 and 3.0L I4.
Significant changes were incorporated to the Porsche 944 in 1985 such as new front and rear cast alloy control arms and semi-trailing arms, embedded radio antenna, a new dash and door panels, optional heated and powered seats, upgraded alternator (from 90 amp to 115 amp), revisions in the mounting of the transaxle to reduce noise and vibration, increased oil sump capacity, "phone dial" style wheels, and larger fuel tank.
The Porsche 944's engine was upgraded in 1989 to the 2.7 liter motor with a just slight increase in horsepower but significant boost in torque. The new engine of the 1989 Porsche 944 also sported larger valves in addition to its higher displacement.
Estimated Price Range for Used Porsche 944: $1,300-$5,000
Estimated MPG for Porsche 944: 18 City/25 Hwy
Below are Pre-Owned Porsche 944 from Ebay and 6 of the top used-car sites on the web:
[phpbay keywords="Porsche 944″ num="5″ siteid="1″ sortorder="BestMatch" templatename="default" paging="false" category="6001″]
Porsche 944 VS For Mustang