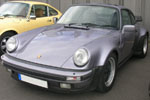 Porsche 930
Photo by:
Andreas Behn
,
Creative Commons
The Porsche 930 is a top-of-the-line sports car that Porsche AG offered in the market between 1977 and 1979. It was the fastest production car in Germany when it was introduced, thanks to its single turbocharged and air-cooled flat-six engine.
Estimated Price Range for Used Porsche 930: $34,000-$49,000
Available Trims: Base, Carrera
Below are Pre-Owned Porsche 930 from Ebay and 3 of the top used-car sites on the web:
[phpbay keywords="Porsche 930″ num="5″ siteid="1″ sortorder="BestMatch" templatename="default" paging="false" category="6001″]
The Porsche 930, with a rear-engine, rear-wheel drive layout, came in three body styles: 2-door 2+2 Coupé, Cabriolet and Targa. In 1978, major upgrades were introduced in the Porsche 930. The engine was enlarged to 3.3 liters and an air-to-air intercooler was added. The intercooler feature helped boost the power output to 300 hp (DIN).
The car's rear "whale tail" was raised slightly and re-profiled to accommodate the intercooler. Brakes of the 930 were also upgraded to those similar with units installed on the Porsche 917 race car. In 1980, the Porsche 930 was not sold in the US and Japan because of emission rules, but the car made a comeback in those markets in 1980 with an emission-compliant engine producing 282 hp (DIN).
Porsche 930 Review