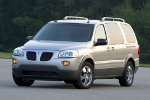 The Pontiac Montana is actually a rebranded minivan manufactured by General Motor's Pontiac division. Before the Montana's launch in 1997, it was badged as the Pontiac Trans Sport. The Montana brand actually started out as a sub-brand for a new trim package of the 1997 Trans Sport. The popularity of the trim package convinced GM to make the Montana a separate line two years later in the United States and the following year in Canada 1999. Even with criticism on its crash test results when it first came out, the brand continued to flourish, with the issue addressed in the alter Montana SV6 model. A top-of-the-line model was introduced in 2002, the Montana Thunder which has 16″ 5-spoke chrome rims, and an upgraded spoiler at the back of the roof rack. A renovation of the minivan's name (it became Montana SV6) and design happened in 2005 with a nose that looks higher and less aerodynamic. Giving it the look of an SUV.
Estimated Price Range for Used Pontiac Montana: $1,500-$9,000
Estimated MPG for Pontiac Montana: 17 City/24 Hwy
Available Trims: Base, SE
Below are Pre-Owned Pontiac Montana from Ebay and 7 of the top used-car sites on the web:
[phpbay keywords="Pontiac Montana" num="5″ siteid="1″ sortorder="BestMatch" templatename="default" paging="false" category="6001″]
Slow sales in the United States made General Motors decide to discontinue the Montana in 2006. The Mexican and Canadian markets will continue to have the Montana until its 2009 model year. Since its introduction, the Montana has enjoyed a warm reception in the Canadian markets, always being included in year-end Top 10 lists of the best minivans in Canadian car publications.
Pontiac Montana VS Dodge Caravan