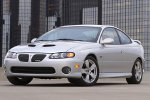 The Pontiac GTO was produced by the Pontiac division of General Motors made available in the United States for 11 years, from 1964 to 1974. In Australia, it was manufactured by Holden Motors and was available from 2004 until 2006. Short for Gran Turismo Omologato, the Pontiac GTO is considered by car enthusiasts as the first true "muscle car". The design of the GTO was more or less similar to the Tempest until its last year, when it was more similar to another Pontiac line, the Ventura. The GTO deviated from a policy of GM to limit the engines of intermediate cars' displacement to 5.4 L. Sales figures of the GTO was constantly high until around 1973, when it faced strong competition from another Pontiac line, the Grand Am. Poor promotion of the GTO also contributed to the slide in sales. Sales improved the next year following the release of the third generation GTO line. However, it still did not meet expectations, thus the line was discontinued without a new model for 1975.
Estimated Price Range for Used Pontiac GTO: $4,000-$21,000
Estimated MPG for Pontiac GTO: 14 City/20 Hwy
Below are Pre-Owned Pontiac GTO from Ebay and 7 of the top used-car sites on the web:
[phpbay keywords="Pontiac GTO" num="5″ siteid="1″ sortorder="BestMatch" templatename="default" paging="false" category="6001″]
The Pontiac GTO enjoyed a brief revival in 2004. This 2004 model was based on the V platform of the Australian Holden Monaro. Interesting colors such as Phantom Black Metallic, Barbados Blue Metallic, and Quicksilver Metallic, among other colors were introduced. Expectations were high for sales of the revived GTO, but the actual units sold in the United States did not meet the said expectations. Thus, the revived GTO only lasted for 2 more model years.
Pontiac GTO vs. Subaru WRX