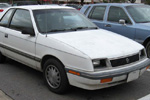 Based on a mid-size car, Plymouth Sundance arrived in 1987 together with its twin the Dodge Shadow. Both were built on the same subcompact platform. It first featured a four door hatchback but was immediately followed by a two door hatchback. It had a 5-speed manual transmission and an optional 3-speed automatic for all three engines.
Actually, its wheelbase and length was only .1 shorter than the original K-cars. Hence, it was an enormous size compared to other sub-compact cars. Plymouth Sundance was not a sporty-type, but rather it catered to consumers that were particular on comfort and space accommodation.
Other standard features included a precision handling system, power-assisted brakes with dual braking system split diagonally, dual outside remote control mirrors, color-keyed front and rear bumpers, two rectangular halogen headlights, stainless steel exhaust system and a 14-inch sport wheel covers. In 1990 it acquired computer-controlled panel that resulted in replacement of the cable-driven speedometer.
Estimated Price Range for Used Plymouth Sundance: $2,000-$5,000
Estimated MPG for Plymouth Sundance: 21 City/26 Hwy
Below are Pre-Owned Plymouth Sundance from Ebay and 4 of the top used-car sites on the web:
[phpbay keywords="Plymouth Sundance" num="5″ siteid="1″ sortorder="BestMatch" templatename="default" paging="false" category="6001″]
Plymouth Sundance Drag Racing