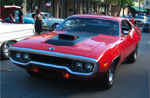 Plymouth Roadrunner
Photo by:
Pwsanders
,
Creative Commons
Being convinced that muscle cars had gone too far from the basics, manufacturer of Plymouth Roadrunner created it to bring back the good old thrills of muscle cars. The first muscle cars ever created were performance based and were truly low-priced.
Launched in 1968, Plymouth Roadrunner was patterned on the heavy luxury cars whose body shape were in the B-Line, such as Belvidere. Though it was lighter than the smaller Barracuda, this car was not as fragile as sports car and it was tough enough to endure any collision. Probably that was the explanation on how much of it had survived the test of serious street work.
Est. Price for Used Plymouth Roadrunner: $9,000-$95,000
Available Trims: Base, Superbird
Below are Pre-Owned Plymouth Roadrunner from Ebay and 2 of the top used-car sites on the web:
[phpbay keywords="Plymouth Roadrunner" num="5″ siteid="1″ sortorder="BestMatch" templatename="default" paging="false" category="6001″]
Indeed, Plymouth Roadrunner was a reincarnation of muscle cars with the stripped pillared coupe. Its standard engine was MOPAR's 383 cid power plant and could produce up to 335bhp. Apparently, it paid Warner Brothers to use the name and to produce horn that went beep beep, similar to the sound famously associated with a certain cartoon bird.
Plymouth Roadrunner Test Drive