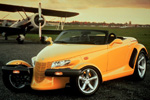 Undeniably, Plymouth Prowler was one heck of a concept car. Its Indy-racer-style front wheel and chassis mainly constructed of aluminum could stun car enthusiasts and car designers alike. However, its creators seemed to have been overwhelmed by the freedom entrusted to them that the output failed to deliver the performance that was expected of something considered as not your run-of-the-mill vehicle.
Plymouth Prowler did not have a manual transmission that would supposedly facilitate in laying down the necessary stripes of hot rubber. Its manufacturers settled with the standard-issue 3.5-liter V6 under the hood, which obviously could not deliver the requisite speed of a hot rod vehicle.
This car unit had been available in 12 colors, though when it was launched in 1997 it was only available in Purple Metallic. Truly, its stunning feature did shock the public when it was debuted at the 1993 North American International Auto Show, but to think of it as a memorable drive forget about it.
Est. Price for Used Plymouth Prowler: $24,000-$32,000
Est. MPG for Plymouth Prowler: 15 City/21 Hwy
Below are Pre-Owned Plymouth Prowler from Ebay and 6 of the top used-car sites on the web:
[phpbay keywords="Plymouth Prowler" num="5″ siteid="1″ sortorder="BestMatch" templatename="default" paging="false" category="6001″]
Plymouth Prowler Review