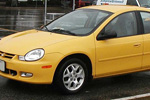 The Plymouth Neon was a compact front drive car that was offered either as a 4-door sedan or a 2-door coupe. It was launched in January 1994 and in its entire production course it had undergone series of restyling and configurations.
In its first generation, Plymouth Neon was built with either a three-speed automatic transmission or a five-speed manual transmission.
Its style, particularly the exterior color, was marked as rule breaking; and input like the unavailability of power windows in the rear doors and bumper covers that were rather molded in color than in paint were likewise a symbol of non-conformity to the standard structure of small family cars.
However, Plymouth Neon got a disgusting rating both in security and framework. It garnered poor rating that analysts advised car buyers that this one was a small car to avoid. Plymouth Neon was not exclusively branded as such. In Japan, Europe, and Asia it was named as Chrysler Neon.
Estimated Price Range for Used Plymouth Neon: $995-$6,000
Estimated MPG for Plymouth Neon: 22 City/28 Hwy
Available Trims: Base, Highline
Below are Pre-Owned Plymouth Neon from Ebay and 4 of the top used-car sites on the web:
[phpbay keywords="Plymouth Neon" num="5″ siteid="1″ sortorder="BestMatch" templatename="default" paging="false" category="6001″]
Plymouth Neon Vs VW Jetta