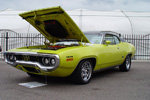 Chrysler Company had never come out an exceptional blend of style and performance until it launched the Plymouth GTX. It was introduced in 1967 as the classy two-door Belvedere hardtop and convertible, but Plymouth GTX was noted for its special grille and rear fascia, chrome gas cap, and simulated hood scoops.
To back up its performance image, Plymouth created the mighty firepower Super Commando 440 with a standard rate of 375 bhp. This engine was particularly used in big cars but for this unit it was fine tuned together with camshaft and valve train, and free-flowing intake and exhaust systems to ensure optimum performance.
A year after, Plymouth GTX was given major transformation where its box like body was changed into a glass hour shape, and it settled with the TorqueFlite automatic transmission as the standard engine.In 1971 it came out with rounded fenders and a loop bumper front and rear.
Estimated Price Range for Used Plymouth GTX: $25,000-$58,000
Below are Pre-Owned Plymouth GTX from Ebay and 2 of the top used-car sites on the web:
[phpbay keywords="Plymouth GTX" num="5″ siteid="1″ sortorder="BestMatch" templatename="default" paging="false" category="6001″]
Plymouth GTX Commercial