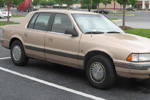 Plymouth Acclaim is a sedan car that is offered by Chrysler from low-priced to midrange automobiles. It was launched in 1989 together with two other new set of models, the Dodge Spirit and Chrysler LeBaron. In terms of appearance, the trio cars are identical. All three of them have two rows of seats and an enormous passenger space that can accommodate adult passengers. Only that Plymouth Acclaim is offered the lowest price among the three.
Its prominent features and specs are nearly the same with K-car chassis components. Chrysler standardized on Plymouth Acclaim the 2.5-liter 4-cylinder that is often matched with a 5-speed manual or, if not, a 3-speed automatic. In its entire life course, it had undergone series of upgrading, such as inclusion of gold accented wheels and trim, built-in cd player, and a new radiator grille in 1993.
Unfortunately, this car model followed the fate of its predecessor, the K-Car, as production of it was discontinued in 1995.
Estimated Price Range for Used Plymouth Acclaim: $1,200-$5,000
Estimated MPG for Plymouth Acclaim: 20 City/29 Hwy
Below are Pre-Owned Plymouth Acclaim from Ebay and 4 of the top used-car sites on the web:
[phpbay keywords="Plymouth Acclaim" num="5″ siteid="1″ sortorder="BestMatch" templatename="default" paging="false" category="6001″]
Plymouth Acclaim Commercial