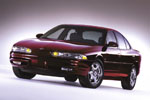 From 1998 until 2002, the Oldsmobile division of General Motors produced a mid-size sedan named the Oldsmobile Intrigue. The design of the Intrigue was first seen in the 1995 concept car called the Antares. It became the Oldsmobile's answer to competition from Japanese cars and was the replacement of the obsolete Cutlass Supreme.
Production for the Intrigue started in 1997 at the GM Fairfax facility in Kansas City, Kansas. The range of the Intrigue placed it in a class with other GM products like the Buick Century, Pontiac Grand Prix, and the Chevrolet Impala.
Three trim levels were available for the Intrigue: the GX (base model), the GL (mid-level model), and the GLS (high end model). From 1998 to 1999, the Intrigue ran on an OHV 3.8 L L36 V6 engine, and it was changed to a DOHC 3.5 L LX5 V6 engine from 2000 to 2002. The Intrigue was the first line of cars phased out by Oldsmobile, and was replaced by the Buick Lacrosse in 2005.
Estimated Price Range for Used Oldsmobile Intrigue: $1,000-$1,900
Estimated MPG for Oldsmobile Intrigue: 17 City/25 Hwy
Available Trims: Base, GL, GLS, GX
Below are Pre-Owned Oldsmobile Intrigue from Ebay and 6 of the top used-car sites on the web:
[phpbay keywords="Oldsmobile Intrigue" num="5″ siteid="1″ sortorder="BestMatch" templatename="default" paging="false" category="6001″]
Oldsmobile Intrigue Commercial