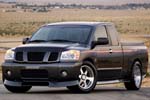 The Nissan Titan full-size pickup truck, primarily catered to North American market, debuted in 2004. Its platform, the stretched Nissan F-Alpha platform is being shared by the pickup truck with other Nissan vehicles namely the Nissan Armada and luxury Infiniti QX56.
The Titan is made in Nissan's Mississippi plant in Canton. Although not intended to be a direct competitor to the big trucks the American big 3 (Ford, General Motors, and Chrysler) produces, it also gave Nissan a noticeable share in the truck market, particularly in the south central area of the U.S.
Base MSRP for New Nissan Titan: $27,410
Estimated Price Range for Used Nissan Titan: $4,600-$25,000
Estimated MPG for Nissan Titan: 12 City/17 Hwy
Available Trims: Base, SE, LE, XE
Below are Pre-Owned Nissan Titan from Ebay and 7 of the top used-car sites on the web:
[phpbay keywords="Nissan Titan" num="5″ siteid="1″ sortorder="BestMatch" templatename="default" paging="false" category="6001″]
Since it was introduced, the Titan received praise for its innovative features like a lockable storage on the side of the driver and its roomy interior. It has only been criticized for lacking options on its body style. Currently, only King Cab and Crew Cab models are available for the Nissan Titan. Furthermore only a 5.6L V8 engine is available for the Titan, with no options for a V6 engine available.
Nissan Titan Review