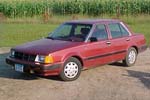 The Nissan Violet was a midsized car produced by Nissan Motors since 1973. It was then divided into two models, the Auster and the Violet four years later. Rebranding occurred in 1984 primarily for the North American market, where the Violet became known as the Nissan Stanza.
However, ten years later, the Stanza was totally discontinued in all markets, giving way in North America to the Nissan Altima and in Japan to models Cefiro and Pulsar. As a racecar, a variation of the model, the Violet 160J became the most successful car of Nissan in the World Rally Championship.
From 1979 to 1982, it won Kenya's Safari Rally, 1980's Rally New Zealand and the Rallye Côte d'Ivoire in 1981. Although discontinued in the U.S. as early as 1992, its successor, the Altima, still bore its name for its first generation. It was known as the Nissan Stanza Altima, the Stanza dropped altogether in the Altima's succeeding second generation.
Estimated Price Range for Used Nissan Stanza: $1,600-$6,000
Estimated MPG for Nissan Stanza: 21 City/28 Hwy
Available Trims: Base, E, XE, GL
Below are Pre-Owned Nissan Stanza from Ebay and 4 of the top used-car sites on the web:
[phpbay keywords="Nissan Stanza" num="5″ siteid="1″ sortorder="BestMatch" templatename="default" paging="false" category="6001″]
Nissan Stanza Drifting