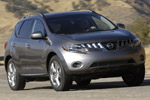 In 2002, Nissan manufactured its first crossover SUV, the Nissan Murano. The mid-sized crossover sports utility vehicle went to the market as a 2003 model and was primarily available in the United States and Canada.
Nissan Design America located in La Jolla, California was in charge of the design, and a year later it became available in North America, the European version was released, with only one version. The Murano's size places it between the Nissan Xterra and Nissan Pathfinder, while its price puts it higher than the Pathfinder.
Base MSRP for New Nissan Murano: $29,290
Estimated Price Range for Used Nissan Murano: $3,000-$28,000
Estimated MPG for Nissan Murano: 18 City/23 Hwy
Available Trims: Base, SE, SL
Below are Pre-Owned Nissan Murano from Ebay and 7 of the top used-car sites on the web:
[phpbay keywords="Nissan Murano" num="5″ siteid="1″ sortorder="BestMatch" templatename="default" paging="false" category="6001″]
The name Murano is actually from Italy, where the Murano region is known for production of high-quality hand-blown glass. As for the SUV, it has earned several accolades, including the title of best premium mid-size SUV from AutoPacific and a nomination for 2003 North American Truck of the Year. The current 2009 Murano is available in base S, SL, and the high-end LE trim levels. Added features of the 2009 edition include power fold-up seats, a touch screen navigation system that is based on a hard drive, and wipers that have built-in rain sensors.
Nissan Murano Review