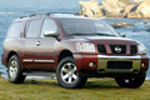 Among Nissan's line of sport utility vehicles is the Nissan Armada. Formerly known as the Pathfinder Armada, the first units were manufactured in 2003 and were made available in the following year, all units of which have been manufactured in Nissan's plant in Canton, Mississippi.
Its F-Alpha platform, which is a body-on-frame type, is also used in the Nissan models like the Nissan Xterra SUV, Nissan Pathfinder SUV and the Nissan Frontier pickup truck. An upscale version of the Armada is sold as the Infiniti QX56.
The Armada looks like a a two door truck with a camper shell even with its four doors variation, thanks to the "C" pillar design which Nissan has used since the Nissan Pathfinder in 1986. Initially criticized for a concern of its brakes, improvements have been made for the models in 2008.
Base MSRP for New Nissan Armada: $38,490
Estimated Price Range for Used Nissan Armada: $10,000-$36,000
Estimated MPG for Nissan Armada: 12 City/18 Hwy
Below are Pre-Owned Nissan Armada from Ebay and 7 of the top used-car sites on the web:
[phpbay keywords="Nissan Armada" num="5″ siteid="1″ sortorder="BestMatch" templatename="default" paging="false" category="6001″]
Ecological advances for the Armada have also been made, as some units are capable of using use E85 fuel. It cornered the market with the Nissan Titan in this feature as the only Japanese-designed vehicle available in the U.S. that can use E85. This was until rival Toyota introduced the Sequoia in 2009. Additional standard options and features have also been added to the Armada for its 2009 edition.
Nissan Armada Review