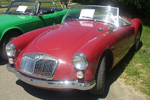 From 1955 until 1962 the MG MGA, a sports car, delighted and awed several icons who have had the chance to own such a remarkable work of art. Back in the days when living was much simpler, the MG MGA knew how to make a grand entrance at a top speed registering 97.8 mph or 157.4 km/h with an acceleration of 0-60 mph or 97 km/h in 16.0 seconds flat.
The MG MGA has a fuel consumption of 26.7 miles per gallon which in the days of the old, the rich and the famous knew that finesse style and performance mattered so much that is why this sports car earned a special place in their mansions.
Due to its popularity, the King of Rock and Roll even used the open red 1960 MGA 1600 Mk I roadster. He liked it so much that it rested in Memphis as a collection.
Estimated Price Range for Used MG MGA: $3,000-$30,000
Estimated MPG for MG MGA: 22 City/26 Hwy
Available Trims: Base, 1600
Below are Pre-Owned MG MGA from Ebay and 3 of the top used-car sites on the web:
[phpbay keywords="MG MGA" num="5″ siteid="1″ sortorder="BestMatch" templatename="default" paging="false" category="6001″]
Restored MG MGA