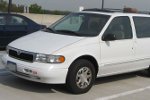 The Mercury Villager is a result of a joint venture between Mercury's parent company Ford Motors, and Japanese automaker Nissan Motors. This join venture produced the minivan Villager, as well as another minivan, this time marketed as a Nissan product, Nissan Quest. The public first saw the Villager in Detroit's North American International Auto Show in 1992. The Quest and Villager are almost similar, sharing the same Nissan engine, with aesthetic differences such as a signature Mercury feature of having a lightbar between the two headlights. Production of the two minivans was done in the Avon Lake, Ohio Ford plant.
The Villager was introduced with three trim choices available the basic GS trim, LS trim, and the Nautica Special Edition, the luxury trim. The Nautica Special Edition model was set in two-toned combinations either blue and white or red and white color scheme. The nautical theme was furthered with designs such as captain's chairs in the second row and a yellow pinstripe.
Estimated Price Range for Used Mercury Villager: $1,200-$7,000
Estimated MPG for Mercury Villager: 16 City/22 Hwy
Available Trims: Base, LS, GS, Sport
Below are Pre-Owned Mercury Villager from Ebay and 6 of the top used-car sites on the web:
[phpbay keywords="Mercury Villager" num="5″ siteid="1″ sortorder="BestMatch" templatename="default" paging="false" category="6001″]
At the start, sales figures for the Villager were promising, but in the late 1990s, it suffered from competition with newer minivans introduced in the market. The Villager lasted two generations, with the second generation available in base, Sport, and the luxury Estate trims. After 2002, Ford decided to discontinue the line while Nissan continued with the production of a 2004 Nissan Quest. Mercury, meanwhile became busy marketing a minivan that Ford passed on to it, the Freestar, which was renamed the Monterey (not to be confused with another full-sized car branded Mercury Monterey that was available in the 1960s).
Mercury Villager Commercial