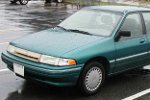 The Mercury Tracer is one of the few remaining car lines that are still being carried by the Mercury division of Ford Motor Company. The Tracer is a compact car which has a platform based on the Mazda 323. The Mercury Tracer eventually replaced Mercury Lynx, which was derived from European car designs. Its counterpart in the Ford line is the Ford Escort. Introduced in 1987 for the model year 1988, it was Ford Laser's rebadged version. At that time, the Ford Focus, also a restyled Mazda 323, was already on sale in the Australian and Asian markets.
Estimated Price Range for Used Mercury Tracer: $1,000-$3,000
Estimated MPG for Mercury Tracer: 24 City/34 Hwy
Available Trims: Base, LS, GS
Below are Pre-Owned Mercury Tracer from Ebay and 5 of the top used-car sites on the web:
[phpbay keywords="Mercury Tracer" num="5″ siteid="1″ sortorder="BestMatch" templatename="default" paging="false" category="6001″]
The Tracer was available in two body styles, the 5-door hatchback, which was assembled in Ford's plant in Hermosillo, Mexico, and a 3-door hatchback, which is manufactured in Hiroshima, Japan. The first generation Tracer was available in only one engine, a 1.6 L B6 I4 with 82 horsepower. The second generation Tracer (1991 – 1997) had 2 engine options, a 1.9 L CVH I4 at 88 hp and a 1.8 L BP I4 with 127 hp. The 2nd generation Tracer wagon was only available in the base trim, while the Tracer sedan body type has a base and LTS trim. This generation of Tracers was included on Car and Driver magazine's Ten Best for the year 1991.
The third generation Tracer (1997 – 1999) had different trim levels: Tracer sedan was available in GS and LS trims while the Tracer wagon was available in LS trim. There was only one engine option, the 2.0 L SPI 2000 I4 at 110 hp. In 1999, all Tracer and Escort wagon models were discontinued.
Cheap Mercury Tracer