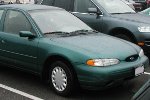 The Mercury Mystique was a variant of the Ford Contour that was rebadged when it was introduced in the market in 1995. This 4-door compact sedan lasted until 2000, marketed under the Mercury division of the Ford Motor Company. The concept of the Mystique/Contour came from the Ford Mondeo. The Contour and Mystique filled the void left by the Ford Tempo and Mercury Topaz when they were discontinued in 1995. They were based on the CDW27 platform by Ford. The Mystique was manufactured at the Kansas City Assembly plant of Ford.
The Mercury Mystique was first available in two trims, the entry-level GS and the upscale LS, both of which had a "sport" option. The base model was introduced for the 1997 model year, only to be discontinued after 2 years. Two engines were available for the Mystique, a 2.0 L Zetec I4 125 hp and a 2.5 L Duratec 25 V6 170 hp.
Estimated Price Range for Used Mercury Mystique: $500-$4,500
Estimated MPG for Mercury Mystique: 18 City/26 Hwy
Available Trims: Base, LS, GS
Below are Pre-Owned Mercury Mystique from Ebay and 6 of the top used-car sites on the web:
[phpbay keywords="Mercury Mystique" num="5″ siteid="1″ sortorder="BestMatch" templatename="default" paging="false" category="6001″]
The Mystique, along with the Contour and Mondeo, was targeted as a major project by the Ford Motor Company in Europe. The finished product of the development is a model that is larger than its predecessors, the Topaz and Tempo. When the Mystique was discontinued, no line of cars filled in the gap that it left in the market, at least for the Canadian and U.S. markets. In Mexico, the Mystique was replaced by a locally produced version of the Ford Mondeo developed in Europe. Through its short history, the Mystique still garnered distinction. It was included in the Ten Best list of Car and Driver magazine for three consecutive years, 1995 – 1997.
Mercury Mystique