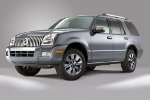 The Mercury brand name of the Ford Motor Company began producing the mid-size sport utility vehicle (SUV) named Mercury Mountaineer in 2002. This was two years after the introduction of its cousin, the Ford Explorer. The Explorer and the Mountaineer are identical virtually in terms of hardware. The external designs of the two vehices are a little different, with the Mountaineer also having a more luxurious interior. The engine is also different, with the Mountaineer available in a 5.0 L 215 hp Windsor V8 powerplant. This makes the Mounaineer at least $1,000 more expensive than the Explorer. An increase in sales in the second year was brought about by an upgraded 4.0 L 205 hp Cologne V6 powerplant with a 5-speed 5R55E automatic transmission. Sales still lagged behind the Explorer, though.
Est. Price Range for Used Mercury Mountaineer: $1,200-$33,000
Est. MPG for Mercury Mountaineer: 14 City/20 Hwy
Below are Pre-Owned Mercury Mountaineer from Ebay and 7 of the top used-car sites on the web:
[phpbay keywords="Mercury Mountaineer" num="5″ siteid="1″ sortorder="BestMatch" templatename="default" paging="false" category="6001″]
The Mercury, along with the Explorer, got a major facelift in its second generation. Luxury features were added including a woodgrain finish to its trim, a radio deck in the rear, and a TV/DVD player on its rear seat. As a result, sales drastically increased, as well as brand loyalty. Owners of Mountaineers now intended to replace their old Mountaineers with another Mountaineer. The redesigned look that includes the waterfall grille and barred taillights would eventually lead the way to become Mercury's new signature look, appearing on subsequent models.
Another redesigning happened in 2006 with more upscale interiors to make up for the void in the market left by the discontinued Lincoln Aviator. The current generation of Mercury Mountaineers also has a frame that has been heavily revised, redesigned wheels, and a navigation system that is DVD based, but does not come with HID lighting anymore.
Mercury Mountaineer Supercharged