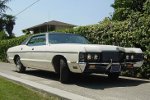 In the history of Ford Motor's Mercury brand, there have been two kinds of Montereys – a full-size near-luxury car and a minivan. The Mercury Monterey car was introduced by the Ford Motor Company's Mercury division in 1950. From 1955, its body style was shared with other Mercury vehicles, namely the Mercury Marquis (generally considered to be an upscale version of the Monterey), Montclair, and Park Lane. For its first five years, the Mercury Monterey was considered as Mercury's premier model, until the Montclair's appearance in 1955. However, the Monterey outlasted the Montclair. The Montclair, along with the Park Lane, was discontinued in 1968. After the Park Lane and Montclair were discontinued, the Marquis-Monterey body style was copied by other Ford cars, namely the Ford Galaxie, LTD, and Custom. This entry-level high-end, and mid-range line was the only Mercury car that was produced throughout the entire decade of the 1960s. The Monterey was last produced in 1974.
Estimated Price Range for Used Mercury Monterey: $4,800-$14,000
Estimated MPG for Mercury Monterey: 15 City/21 Hwy
Available Trims: Base, Premier, Luxury
Below are Pre-Owned Mercury Monterey from Ebay and 4 of the top used-car sites on the web:
[phpbay keywords="Mercury Monterey" num="5″ siteid="1″ sortorder="BestMatch" templatename="default" paging="false" category="6001″]
The Mercury Monterey brand resurfaced in the early 2000s. It became a minivan that was Mercury's version of the Ford Freestar. Both Freestar and Monterey started production in 2002 and was last produced in 2006. The Moneterey minivan was made to fill the void that the Mercury Villager, a minivan co-produced with Nissan, was discontinued in 2002. The Monterey and Freestar had a seating capacity of seven passengers. Monterey had more luxury features and had a more powerful 4.2 L V6 engine standard engine. Thus, only more than 32,000 Montereys were sold in its three year run.
Mercury Monterey Commercial