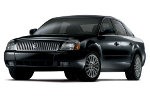 The Mercury Montego was first introduced to the car market in 1968. The Mercury division of Ford Motors manufactured this line until 1976. It is assumed that the name is homage to the Jamaican city of Montego Bay. The Montego brand has actually been used in 1967 on the Meteor line, which was available in Canada as Meteor Montego. The Meteor Montego was the upscale trim of the Meteor line. After 1976, the brand was used for two years, in 2005 until 2007. The Montego in 1968 stood as an upgraded, more luxurious version of the Mercury Comet, until the Montego took over its slot in the line of Mercury cars when the Comet was discontinued the year after. The Montego also had a variant, the Cyclone, which was marketed as a high performance version, manufactured until 1971. The Montego's "cousin" in the Ford line is the Ford Torino, which like other Mercury-Ford cousins, share a platform and most of its features.
Estimated Price Range for Used Mercury Montego: $4,000-$15,000
Estimated MPG for Mercury Montego: 20 City/26 Hwy
Available Trims: Base, Luxury, Premier
Below are Pre-Owned Mercury Montego from Ebay and 7 of the top used-car sites on the web:
[phpbay keywords="Mercury Montego" num="5″ siteid="1″ sortorder="BestMatch" templatename="default" paging="false" category="6001″]
The inaugural generation of the Montego came in four body styles. A four-door sedan, a convertible, a two-door hardtop, and a station wagon were available, with two trims: base trim and an upscale MX trim. A new trim, a luxury MX Brougham was added in 1969.
In 1970, two new body styles were added, the four-door hardtop and MX Villager station wagon. However, the convertible style was discontinued the same year. The 1970-1971 Montegos had a design that many took notice, including grille centers and a hood that thrust forward. Furthermore, Brougham and Villager models in the 1970 were given headlamps that were concealed. The line was discontinued in 1976 amidst an impending energy crisis. The 2005 – 2007 line was renamed Mercury Taurus.
Mercury Montego Commercial