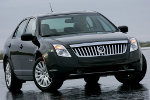 In 2005, the Lincoln-Mercury division of the Ford Motor Company introduced a mid-size sedan named the Mercury Milan. The Milan, which debuted in the Chicago Auto Show, is built on Ford's CD3 platform, something it shares with its "cousin" Ford Fusion. Actually, the Milan has been tagged as an upgraded version of the Fusion, targeted to a more affluent market. Thus, it occupies a space somewhere between the Fusion and the more luxurious Lincoln MKZ (formerly the Lincoln Zephyr).
Estimated Price Range for Used Mercury Milan: $3,900-$19,500
Estimated MPG for Mercury Milan: 18 City/25 Hwy
Available Trims: Base, I-4 Premier, V6
Below are Pre-Owned Mercury Milan from Ebay and 7 of the top used-car sites on the web:
[phpbay keywords="Mercury Milan" num="5″ siteid="1″ sortorder="BestMatch" templatename="default" paging="false" category="6001″]
The Fusion and the Milan differ in the design of their front and rear fascia, the size of their rear doors, taillight clusters, head and fog lamp types, suspension, and interior. Six Milan package variants are available: the I4, I4 Premier, V6, V6 Premier, V6 AWD, and Premier AWD. The 4WD variant has a five-speed manual transmission. Additional features include a DVD navigation system and a console-mounted MP3 auxiliary jack in some 2007 Milans. A hybrid version of the Mercury Milan has been made available, featuring a Duratec 25 gasoline engine (Atkinson cycle variant) and an AC synchronous electric motor with 106 horsepower.
The Milan is currently available in the U.S., including the U.S. Virgin Islands and Puerto Rico, Mexico, and the Middle East. In the Middle East, however, only the Milan I4 and Milan I4 Premier variants are available. Among the accolades the Mercury Milan has been given Consumer Reports' most reliable cars available in the U.S., where it ranked 4th. The Milan has also been included in the RDA Group's TGW ("things gone wrong") list in 2007 and 2009 with the lowest TGW incidents among midsize cars.
Mercury Milan Review